ONE OF OROFINO'S FIRST HOTELS
The hotel which was owned and operated by Nels & Elizabeth Helgeson, opened its doors December 22, 1924, with dedication ceremonies January 30, 1925.  It was to be a place where guests could experience a singular combination of world-class service, palatial splendor, and inviting warmth. Yet just beyond its doors was all the entertainment, commerce, and natural beauty that downtown OROFINO had to offer.
Fifty-eight rooms accommodated Orofino's visitors, each with hot and cold running water and steam heat. Twelve rooms on the second floor had private bathrooms. Rooms were $1.00 per day with a monthly rate of $15.00.
As you entered the hotel from Johnson Avenue, a large lobby greeted you on the right, which soon became a community gathering place.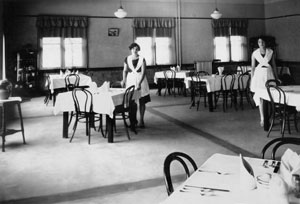 Dining Room Of The Past
Left of the lobby was the Helgeson Dining Room, an elegant place to dine with linen tablecloths and napkins, good food and service. The most expensive dinner was T-bone steak served with salad, potato, vegetable and drink $.75, a lesser meal of pork chops would be $.50. Behind the dining room was the kitchen where a gourmet cook expertly prepared the food.
The hotel boasted a ballroom to the back of the building behind the lobby and part of the dining room. It had a beautiful floor and was open every Saturday evening for ballroom dancing with live music provided. It was also the scene of many elegant parties, dances and concerts.
That elegance has continued throughout the Helgeson's long and impressive history — right up to the present day. The facilities and the guest rooms have since been modernized with 21st-century amenities like wireless Internet access, of course, but they retain all the character from when Nels and Elizabeth Helgeson oversaw the hotel.